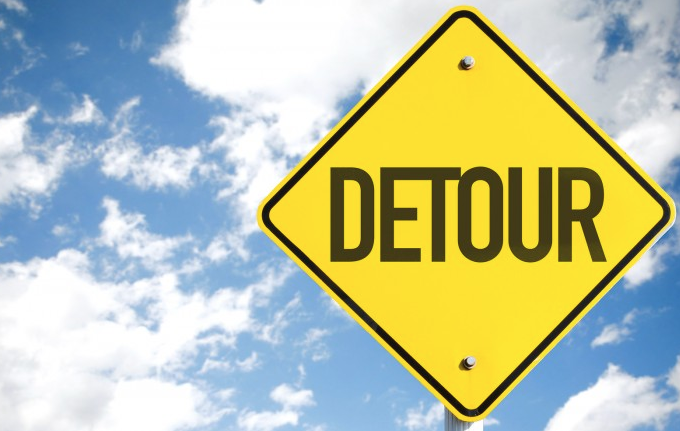 Feeling stuck?
Did you get stuck in Labor Day traffic over the weekend?
My son was driving us home from Mammoth with our paddle boards on the roof, our bikes on the back and our teenage daughter in the front seat controlling the radio. My son's been driving for a few years, so I could relax.
(Mostly.)
So I wasn't paying attention to Waze or any other traffic alerts to realize we were heading straight into a traffic jam that would have us completely stopped.
Near Olancha.
The town has a name, but not much else.
After sitting in the traffic jam for a few minutes without moving, we checked Waze. We found out that if we turned back 13 miles and took a detour around the dry Owens Lake, we'd shave 40 minutes off our driving time. And it did.
Driving 13 miles in the wrong direction got us home faster. AND it was better than sitting at a standstill, stuck.
You know there's gonna be a life lesson in this, right?
Of course.
About Detours.
Life's detours.
Like the job that didn't work out.
Or the dog that got sick in the middle of the night.
Or the car accident.
Detours take us somewhere we didn't think we wanted to go. Sometimes, back to a place we just left.
Detours force us to slow down. See things differently. And sometimes, they force us to keep moving, even if it feels like we might be going in the wrong direction. But if we're moving, we're not STUCK.
It's probably why the Waze app is so popular. Waze keeps people from feeling STUCK. It takes drivers through all kinds of routes they wouldn't have known and it keeps them from that trapped feeling of STUCKNESS on the 405 freeway.
When we're taking action, we're not stuck.
It's easy to get STUCK in life. Taking some sort of small action helps us get unstuck.
Sign up for a class.
Reach out to someone who's been through what you're going through.
Join a group.
Do something you used to love, like playing an instrument or swimming or drawing or trying something new.
Or help someone. Nothing gets me out of a funk better than baking and delivering something to someone who wouldn't expect it.
Detours can take us in directions we didn't want to go, or they can lead us to some of the most meaningful moments of our lives. Sometimes, they just get us home a little faster. And that's good enough.
Tags In