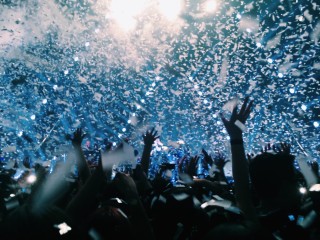 Inspiration from Fleetwood Mac
Mick Fleetwood is not on my vision board.
But the word JOY is on my vision board. And JOY is what the drummer of Fleetwood Mac exuded on Saturday night at the Fabulous Forum. With his white beard, long hair pulled back and smiling wild eyes, Mick Fleetwood reminded me of Santa Claus, offering the gift of JOY to thousands of people in the audience.



His extended drum solo was electrifying to watch.  Cameras zoomed in on his face so I could see on the big screens the sweat flying off his brow.  Mick Fleetwood, one of the founders of Fleetwood Mac, is 71 years old. And clearly doing something he loves.

That's inspiration right there.
At this time of year, it's easy to get caught up in busy-ness and things we think we "should do". My wish for you is that you make time for something that really gives you JOY.

For me, it's live music.

And apparently, for my son too. He's home from college and we gave him tickets to see Childish Gambino, also at the Forum. My kid couldn't stop talking about it the next day. He showed me videos from the concert; told me the artist's back story, how he graduated from NYU, wrote comedy with Tina Fey, and won't be performing again as Childish Gambino, so he's super grateful he got to see the concert.

That right there—a long, happy conversation with my 18 year old son-–that's another thing that brought me JOY.
(Trust me, there were some conversations with him over Thanksgiving that were not joyful.)
 
What has brought you JOY?